What Is A Periodontist?
Periodontics is a dental specialty that involves the prevention, diagnosis and treatment of diseases of the supporting and surrounding tissues of the teeth or their substitutes and the maintenance of the health, function and esthetics of these structures and tissues. As a board certified periodontist, Dr. Alan M. Timko has furthered his education in periodontics in order to treat his patients with more specialized care. As one of the few board certified periodontists in the western Pittsburgh area, Dr. Alan M. Timko, DMD is the periodontist for you!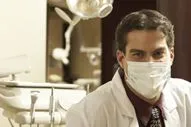 Periodontics vs. General Dentistry
A periodontist typically has had two to three years of additional training in diagnosing and treating gum disease and its associated problems. Periodontists are familiar with the latest techniques for diagnosing and treating periodontal disease. Moreover, periodontists can perform cosmetic periodontal procedures to improve your smile. Often, dentists refer their patients to a periodontist when their periodontal disease is advanced.
For more information on Periodontics in the Pittsburgh, PA area call Dr. Alan M Timko, DMD at (412) 364-6777 today!