Periodontal maintenance includes an update of the medical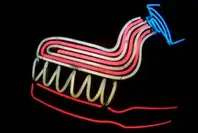 and dental histories, extra oral and intraoral soft tissue examination,dental examination, periodontal evaluation, implant evaluation, radiographic review, removal of bacterial plaque and calculus from above and below the gum line, selective root planing or implant debridement if indicated, and a review of the patients plaque removal efficacy. These procedures are performed at selected intervals to assist the patient in maintaining oral health.
Once periodontitis has been controlled, patients will require ongoing periodontal maintenance procedures to sustain health.
Dr. Timko uses computerized charting for his patients. This allows him to monitor the changes in periodontal disease activity over time. Dr. Timko uses this information to customize periodontal maintenance treatments for each patient visit, based on the changes which were noted.
The American Academy of Periodontology invited Dr. Timko to lecture on how he used the computer to track periodontal disease activity, at its Annual Meeting in Vancouver BC.

Research (Axelsson, Lindhe, 1981) has demonstrated that patients who were not maintained in a supervised program were more prone to develop recurrent disease.

Other research (Jansson, Hagstrom 2002) suggests that non compliant individuals had the highest risk of recurrent periodontitis even if they had completed the treatment plan. Smokers comprised a greater percentage of the non compliant group
References cited :
Axelsson, P. and Lindhe, J.: The significance of maintenance care in the treatment of periodontal disease. J Clin Periodontology 8:28 1 1981.
Jansson LE and Hagstrom, KE; Relationship between compliance and periodontal treatment outcome in smokers. J. Periodontol 73:602,2002.